Introduction
2P Label Designer is a powerful yet very easy-to-use professional Barcode Label Design program specifically for predefined off-the-shelf labels (e.g., Avery labels, etc.), which you can trust to meet your barcode label needs anywhere your business leads to.
2P Label Designer is powerful. It supports most common 1D/2D barcode types. It has all the common components as expected for an industrial-strength Barcode Labe Design software. In a label design, you can add text, paragraph, rich-text, ole, image, line and box fields. Various data source options are supported, e.g., database, incrementation, link expression, date/time stamps, etc. It has corporate-level support features like activity-log, user/password control panel, etc. Multiple documents can be opened / edited at the same time.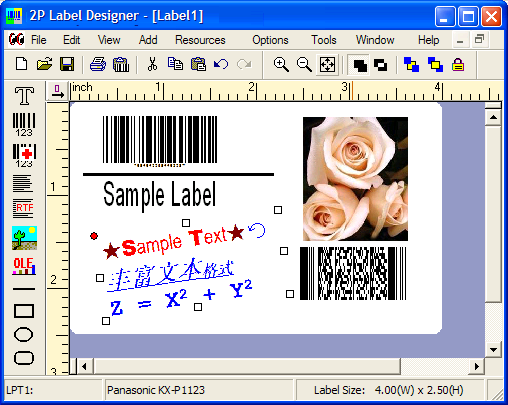 2P Label Designer's user interface, field-hierarchy and mouse-logic are designed in such a way that production-floor worker without much computer experience will find it easy to become a qualified user, yet professional designers will have enough room to freely utilize their extensive skills.
Design work is made effortless and straightforward. 2P Label Designer provides the most convenient user interface so you can design the best label!
In addition, fields in label can be easily edited, rotated. The foreground and background of field can be set to any color combination. User can copy and paste fields among different labels.
Overall, you can rely on 2P Label Designer in your business and we are committed to support you all the way in your label design & printing work!