Introduction
2P Barcode Creator is a very powerful yet very easy-to-use barcode creator program which you can trust to meet your barcode everyday needs anywhere your business leads to.
2P Barcode Creator can generate barcode images in three basic ways:
Output barcode images to clipboard so that you can paste directly into your document.
Save barcode images as image file which can then be incorporated into your document or used in whichever way you like.
Print barcode images directly to a printer.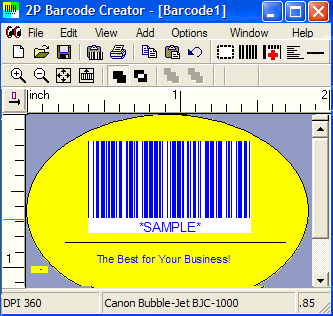 Generation of barcode images can be in various commonly used formats.
In addition to generating pure barcode images, 2P Barcode Creator has the ability to design barcode layouts with barcode, comment, and line fields, thus meeting common needs in business practices. Fields in layouts can be easily edited, rotated. The foreground and background of field can be set to any color combination.
Barcode data can come from fixed data or from date, time stamps. Data can be set so it increments with each barcode generation.
Barcode layout can have various kinds of background, e.g., oval, rectangle with round corner, etc.; Background can be of any color.
2P Barcode Creator can open and edit multiple Barcode Layouts simultaneously. User can copy and paste fields among different Barcode Layouts.
When saving barcode image to image files, 2P Barcode Creator can group-generate image files at once, with each image having different (e.g., incremental) data.
Overall, you can rely on 2P Barcode Creator in your business and 2P Technologies, Inc. is commited to support you all the way in your 2P Barcode Creator life!